On Mardi Gras 2017, which was just a regular auss Tuesday in Chicago, I told myself I would be in New Orleans for Mardi Gras in 2018. I saw the dates and thought if I have a beau, he can come, too. If not, then we won't be seeing each other on Valentine's Day.
Then September came, and there was a beau in the picture. I mentioned it to him, he was down. So a road trip was planned, including an overnight stop in a city for some fun before getting to New Orleans. Oh, it was going to be our first trip together, our first Valentine's Day together, and it was going to be fun. Then November came, and there was no beau in the picture. However, in 2017...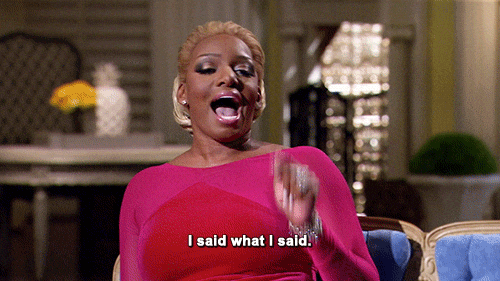 I was going to list the top moments of this trip, like I did for my birthday trip. But going through all the pics and videos. I couldnt. So, this post is Part 1 of my posts about Mardi Gras Trip 2018.
I arrived in New Orleans for Mardi Gras for the first time since 2011 on Sunday afternoon. First thing I ate? A shrimp po' boy, baybeh! The guy shucking the oysters paid for my meal because he thought I was cute. This was a sign that this trip would be one to remember...for the most part*. That night, I went to check out Tank & The Bangas and Big Freedia. I had seen Big Freedia perform in Chicago, so I knew what to expect.
"A whole lotta whole lotta whole lotta ass!"
Tank & The Bangas, though!?! They puts on a show, nahmean!? I feel like artists go hard when performing in their hometown. So seeing the artists perform in their home city during Mardi Gras season was a delight. So, Night 1? LIVE!
Monday, I picked up my rental and was able to roam free. I got my eyebrows snatched, and hit up Zulu's Lundi Gras festival at the riverfront. Shoutout to my homie, Thomika, for the suggestion. As I'm walking through the park, I saw a man in front of me rocking a Hales Franciscan varsity jacket.
Chicago spidey senses: [On] Off.
He was a fellow Chicagoan, rocking his son's jacket.
I made my way to the main stage to watch a group perform Motown jams, while sippin a Hurricane**, and vibing. There were a group of people next to me who took a big auss group pic. I JUST so happen to be in the perfect spot for a subtle photo bomb. One of the ladies reviewed the pic, started cracking up, and came to me to show the pic. This is when I met my new aunties.
Wanda and her crew are originally from New Orleans, but reside in Dallas. I rocked with them for the rest of my time at the festival. I asked them where they will be watching the Zulu parade - the only parade that matters to me on Tuesday. They let me know the exact location, told them I'd be there. Before we departed, like true aunties, they told me to be careful and made me carry my little purse under my jacket so nobody could snatch it.
My buzz is gone and I gotta pee. As I'm looking for a bar whose bathroom and rum (Ha!) I can use, I ran into the naked cowboy, and his wife, who insisted on taking pic together.
While sipping my drink, I start chatting with two girls who reside in NYC. They said they were about to hit up Deanie's. I told them the food was great and they randomly invited me to dinner with them. While standing in line waiting to get in Deanie's, there is a guy from Chicago standing behind us who was meeting with his cousin, also from Chicago. So now, he's joining us for dinner. LOL We ate, and parted ways, knowing I'd never see them again.
Now it's time for the parades - Proteus and Orpheus. And, bih, it's cold and windy! I met Michael Jordan's long-lost twin brother, had a shot with some folk from Cali (that shot glass on my beads always comes in handy), and caught hella throws (some I gave to others). It was a fun night.
Sunday night and Monday were lit. Tuesday? Sheeeeiiiid! You see the first asterisk explanation below. X_X
Rest of the trip discussed in Part 2.
K to the...
2.21.18
*There is a 4 hour window during which I'm not sure what went down. I just know where I safely arrived. LOL
**My very first time in New Orleans, I couldn't stand this drink. I thought it was weak...pass me the Hand Grenade! However, I appreciate the drink more, now that I'm older, and can barely finish a Hand Grenade. I'm washed.